Saturday Spins: Pantera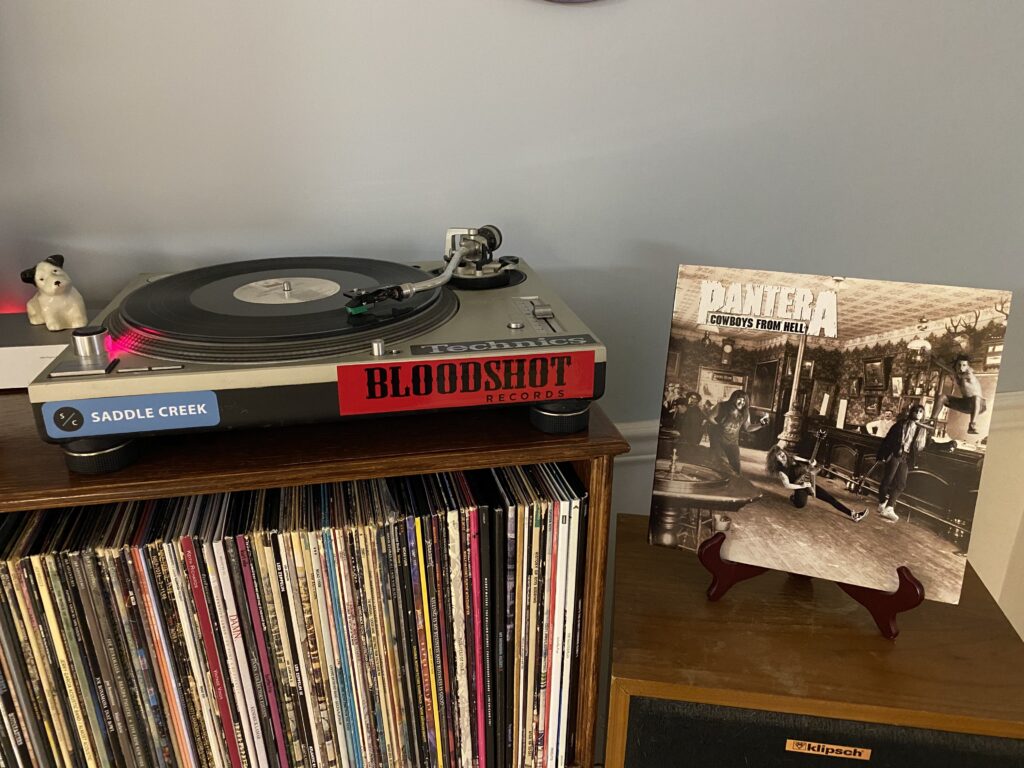 Thirty years ago yesterday, July 24, 1990, a record dropped of such sonic magnitude that the world of thrash metal would never be the same. The only thing these guys have in common with last week's spin is that they both originated in Texas. I hesitate to even cover this LP because the lead singer is a virulent racist, despite attempts to deflect from that reputation, but the greatness of this band and this record cannot go uncovered.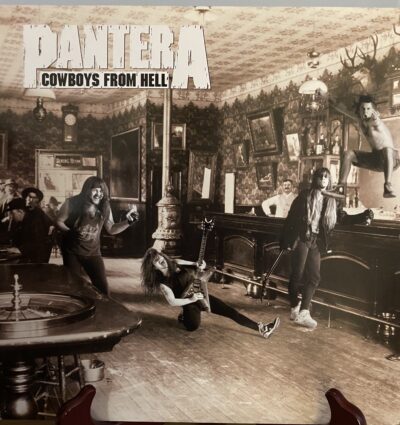 Pantera
Cowboys from Hell
1990 (2010 Reissue)
Commentary
Music is extremely subjective to most, and as I have discussed here before on various occasions, my collection is of the very eclectic type. That is how we go from some sweet alt-country/southern rock one week to heavy thrash metal the next. Pantera was born in the late 80s; the Abbot brothers, Dimebag and Vinnie Paul, started a real life glam metal band. The hair and everything. They then metamorphosed into trashy rednecks playing thrash on the same level as bands like Slayer, Megadeth, and Anthrax.1
Cowboys from Hell was turned down like 30 times as the story goes, before finally getting a major label deal and release. The artwork here is some very early Soviet-style photo splicing of the band in a westernish saloon setting. This reissue that I have is a double LP with a gatefold jacket. The inside, with acknowledgements, credits, and lyrics.
Pantera's secret weapon was, of course, Dimebag Darrell, who was a larger than life guitarist who was gunned down on stage by some cowardly maniac in 2004. In my scholarly opinion, Dimebag's genius lies in both his tone and his style. It is a bit more disciplined than, say, Kerry King. A lot of thrash metal acts are great if you want to just rock the fuck out, but a band like Pantera contains a bit more refined artistry than one would expect.
I used to subscribe to the magazine Guitar World and some of my favorite articles were interviews with Dimebag, the dude was just larger than life.
I mentioned earlier that one of the members, lead singer Phil Anselmo, is a virulent racist. I stand by that, because throwing Nazi salutes, even as a "joke," or arguing that white pride is the same as black pride while purposely missing the point is not cool, man.2 Phil is still around performing in several bands here and there and saying dumb stuff.
Pantera disbanded in 2003 and the Abbott brothers went on to form Damageplan. That band was short lived due to Dimebag's murder. Vinnie Paul Abbott passed away in 2018. He was 54.
Tracks I Think Are Great
Right off the bat, you gotta go with the title track, "Cowboys from Hell." My friends and I used to attempt copying that riff back in the day, but there's a reason I am a lawyer and not a world-famous guitarist.
[youtube https://www.youtube.com/watch?v=i97OkCXwotE]
Another track to definitely not miss is "Psycho Holiday" which sounds exactly like it sounds. On side one there is also "Primal Concrete Sledge" which is a fun song, but is kind of meh when you listen to the second single from this album, "Cemetery Gates." "Cemetery Gates" is a truly great song where the whole band is just showing off their entire range as artists. Is it metal? Is it hard rock? Is it a ballad? Was the solo crafted with a little extra-planar assistance? Perhaps all of those things are true, but "Cemetery Gates" remains one of the best Pantera songs.
[youtube https://www.youtube.com/watch?v=RVMvART9kb8]
"Domination" has a real punk rock feel to it, but it eventually blossoms into an excellent metal song. I am also a huge fan of "Medicine Man" in a sense that it is similar to "Cemetery Gates" as far as the range. A lot of these Pantera songs are like Kendrick Lamar raps, they are 3-4 songs in one that flow seamlessly. "The Sleep" is another great track to to miss either; it sounds like Halloween feels. Finally, there is the aptly named "Art of Shredding" which is exactly what Dimebag did. This final track really brings back the thrash feel.
Unrelated Yet Somewhat Related Stuff
Dimebag's best friend was legendary guitarist, Zakk Wylde. On the 2005 Black Label Society album, Mafia, Wylde wrote and performed a tribute to him entitled "In This River." It's a great tribute song.
[youtube https://www.youtube.com/watch?v=1HUr9UKAxiY]