Joker's Wild: Reconsidering My Criticism of Joker
Occasionally, because I am a big fat sillyhead, I like to write about movies or shows that haven't come out yet. I take this gamble for a variety of good and well-thought-out reasons, but my primary motivation is because I think the premise of the movie is a good vehicle to talk about something I wanted to talk about anyway. Sometimes this pays off, like in the case of Veronica Mars Season 4, which I wrote about without seeing  and then hated.
Other times, not so much, like when I dismissed Once Upon a Time in Hollywood as being Boomer Porn when it turned out that was a pretty awesome movie that was about something real. It was a great piece making a much-needed point and I am proud of it, but it turned out that my premise didn't actually apply to the movie I was criticizing.
Well, this weekend I finally got the chance to watch Joker, another movie I wrote about without having seen. I wrote about Joker because I am sick of retrofitted backstories for already existing characters; because I think our desire for an easy explanation as to why bad people turn bad is incredibly toxic to our culture and even makes us see redemption as something that is impossible to attain. My piece was, IMVVVHO, both excellent and necessary, but just like with Once Upon a Time in Hollywood, it came to pass that my criticism did not happen to apply to the movie in question. Joker is outstanding, insightful, and while I need to sit on it a couple days and re-watch it before I declare this as fact, may very well be one of the most important movies of the 21st century.
As I watched Joker, I realized, it's not so much that I hate a backstory, but I hate a badly done, perfunctory backstory with simple answers to complicated questions. I especially hate it when human nature is boiled down to a person who has some switch in their heads flipped by one defining moment and free will is removed from the equation – which is typically the stock and trade of backstory movies. But that is not what Joker does. Arthur Fleck wasn't a good and noble person one minute and then something happened entirely outside of his control and he turned evil. Arthur Fleck was, as all of us are, a person with the potential for violence written right into his DNA, a flawed and fallible person who had experienced a lifetime of abuse. Then, after some deliberation, he made a choice. It doesn't happen suddenly out of the blue – you can even see him try on the choice for size before he makes it. You can see him allow himself to accidentally fall into the decision the first time (as many of us do when we decide to do the wrong thing – allowing us to later declare "it just happened" and mean it), and then become more deliberate, more intentional with every moment that passes.
Arthur Fleck is not a spinning top, out of control and careening off things wildly, his direction determined by the fates. He is a man who decides, welp, this sucks, and I'm not going to bother with the rules any more, because so far they haven't worked out for me. The character arc of Arthur Fleck mirrors the journey I think lead many into a life of crime – they tried doing it the world's way and got nowhere fast, and then they decide that maybe it's time to put their own interests aside of everyone else's.
I wrote: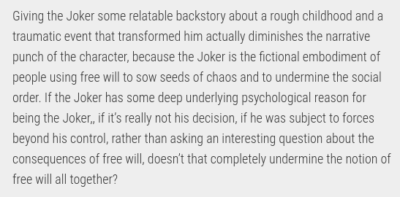 I still think denying free will is a plague not only on fictional endeavors but on humanity as a whole, and yet I must acknowledge that writer/director Todd Phillips and cowriter Scott Silver managed to avoid the pitfall completely. While there is a moment that happens that in essence, flips the switch, the groundwork for Arthur's transformation was laid well in advance, before the movie ever begins. Watching Joker is like looking at a Japanese painting, the kind that features just a tree branch or a piece of a trunk…you know the rest of the scene happened outside of the frame and your mind fills in the gaps. It makes for a big world drawn by such a small movie – an intimate movie centered around one character, so much less grand in scope than any other comic book story. Yet the tale it weaves is vaster than most spectacular blockbuster, a tale made all the more gripping by the fact that we're currently living it.
Perhaps our present reality is why so much criticism has been levied against Joker. Some have said that the movie glorifies the antihero, creates another Walter White or Vic Mackey or Tony Montana/Soprano for odious men who think they deserve power and respect that they have not earned, to idolize. But this is a completely disingenuous argument. Unlike most movies featuring anti-heroes, Arthur Fleck isn't cool. He's repellent. He isn't noble, he's a creep, and he's a creep right from the start. He isn't a noble and misunderstood genius, he's a man on the fringes of society for a reason and the reason is that he is actively antisocial. We can have some understanding and even empathy for the reasons why that is, but no one would want that clown at their children's birthday party.
Far, far too many writers have created an anti-hero and then made them smarter than everyone, kinder than everyone, more talented than everyone, wiser than everyone, and then given them a cool porkpie hat or a leather jacket and a shaved head to hammer the point home that hey, this guy is only evil in the service of greatness. This guy, now this guy, we are told, his evil is excusable because he's a very special person to whom the rules don't apply. That is why these characters appeal to those who also see themselves as special people who should be granted immunity from society's rules. It was incredibly refreshing to me to see a movie brave enough to point out that a whole lot of people who go bad aren't great, aren't noble, aren't talented. They are mediocre people who don't follow the rules because they can't follow the rules; they have failed at the rules so often and so greatly so they decide to dispense with the rules all together. Hollywood has given us movie after movie about strange freaks who are secret savants and it felt incredibly honest to finally, finally have the truth acknowledged – sometimes a strange freak is just a strange freak.
One of the things I love to do is to seek out the patterns in the chaos, to listen for the rhythmic taps of meaning in the background noise. Some say I carry this too far at times, that I see pattern and meaning where none is intended. But I think there's an undeniable message in Joker, and it's a message that many of us who up till now have erred on the side of compassion are beginning to wake up to. Sometimes the Misunderstood Guy is in fact an Actual Bad Guy and must be treated as such, even if we can understand, to some extent, how he got where he is. It doesn't matter how the sausage was made; toxic waste is still toxic and it's still waste.
Arthur Fleck is intended to represent a whole class of individuals across the political spectrum who have convinced themselves that it's better to tear it all down than to settle. They've lost the Game of Life so rather than continue to play they're gonna flip over the board and then they're gonna burn the house down too.
To a very great extent, we as a culture have created these men (because they are mostly men) just like Arthur Fleck's abusive mother and a cruel and heartless society created him. We have created these men not by giving them too many achievement ribbons and praising them too freely, we have created these men by designing a world in which only the best of the best are seen as winners and everyone else is seen as losers who should probably kill themselves. We have created these men by designing a world in which accidents of birth and twists of fate are rewarded as "merit" and then "merit" is seen as the standard by which we judge all human value.
It is no surprise that the first people Arthur Fleck kills are rich a-holes. We the audience are given to understand that if only things had been a little different, Arthur would have been dressed in a suit and cruelly taunting women on the train, and one of the men he assaults would be sitting where he is. We understand that in a culture in which there are winners and losers, SOMEbody has to play the part of the loser. But too few understand the fundamental message of Joker: for those who don't want to be a loser, but can't win the game the normal way, there are other avenues available to them. They don't have to continue to play the game and they don't have to accept their position as the loser for other, luckier people to feel superior to.
If you can't win by society's rules, well, maybe you can win in some other arena, by wanton destruction and brutal crime, by becoming the most antisocial of them all.
In previous incarnations of the Joker story we are told that the Joker fell into a vat of acid that transformed him. And this Joker is really no different. The acid was not literal acid this time, it was the caustic chemistry of a culture in an advanced state of decay. Arthur Fleck fell into that witches' brew and marinated for a good long while. He came out a changed man, but his change was not a passive act. Indeed, it was the first deliberate act of Arthur's life.
Joker is a movie about transformations, not rapid and easy ones, but painfully slow transformations. Transformations that happen over the course of a lifetime, even across generations – the way real transformation happens in individuals and in a society. Even though the precise moment of change may happen with breathtaking speed, it is never without portents and underlying trends and precursor events that historians argue about centuries later. The Joker was created by the world that Thomas Wayne made, a world that tolerated gross inequality and called it a level playing field. He was created by a world who rewards those like Murray Franklin who mock and belittle others for Nielsen ratings and clicks, with fabulous rewards. He was created by a world which does those things, and yet that same world bestows fame and legendary status on those who are willing to do nothing more than pull the trigger.
To a man like Arthur Fleck, there are many paths to greatness, and he simply took the one available to him.
It's a fascinating journey we are taken on, but more fascinating still is the spectre who dangles over the events, like some sort of winged creature hovering in midair, waiting to take a journey of his own.
What do the rest of us do with a walking barrel of toxic waste? We find men, brave men, strong men, to remove that toxic waste, to cleanse and purify society. And if we don't find those men deliberately, if we do not choose them, sometimes they themselves take up that mantle, choosing to take matters into their own hands. In virtually all cases I would roll my eyes at an origin story in which Thomas Wayne creates The Joker and then The Joker creates Batman. But Joker is not this story. It is a parable – not a story about men but about how the choices of some – even an entire generation who of course also simply inherited a terrible world and did the best they could – can work to create a climate in which another group of people makes a different set of choices, choice that may be just as bad if not even worse.
The sins of the father really are revisited upon the sons.
I found Joker to be an incredibly conservative movie, possibly the most conservative movie I've ever seen.1 Yet it isn't conservative in the sense that it longs for the return of a distant past or apologizes for the sins of previous generations. Joker fully acknowledges that it was the sins of our fathers who created the agents of chaos currently running amok, but the movie further acknowledges that another generation's sin is no excuse for the twisted actions of the agents of chaos.
How far do our sins reverberate across space and time? Indefinitely? Are we doomed to play out the events of Joker again and again, as the failings and excesses of one generation create a separate and distinct set of pathologies in the next? Because the implication of a generation of Jokers is that there will be a generation of Batmen coming next. A world replete with lawlessness will create in people a desire for order at all costs, and order at all costs carries with it its own set of problems, problems that don't end well for men like Arthur Fleck.
I've written in the past about how our love for Batman represents a desire to see fascist tendencies in the hands of a person decent enough to be trusted with them. You can see this dynamic quite plainly in The Dark Knight, where in order to defeat The Joker, Batman has to resort to using invasive technology to monitor everyone's cell phones. We are meant to understand that this is because there's no other option, that stopping The Joker is so important that just this once we have to trust in the goodness of one man not to abuse the enormous power at his disposal.
But as we've all had ample reason to muse on lately, in the real world, law enforcement agents are not Batman. When we look at young Bruce Wayne, knowing that he will grow up to be Batman, the question hangs heavy in the air – will this be an improvement? Will Bruce Wayne, in order to stop The Joker, simply make his own set of choices, cross his own lines, betray his own principles, step outside the bounds of civilization to achieve his own goals just as Arthur Fleck did?
I don't know either. Ask me again in a few months, years, decades.
---