Country Roads, Take Me Home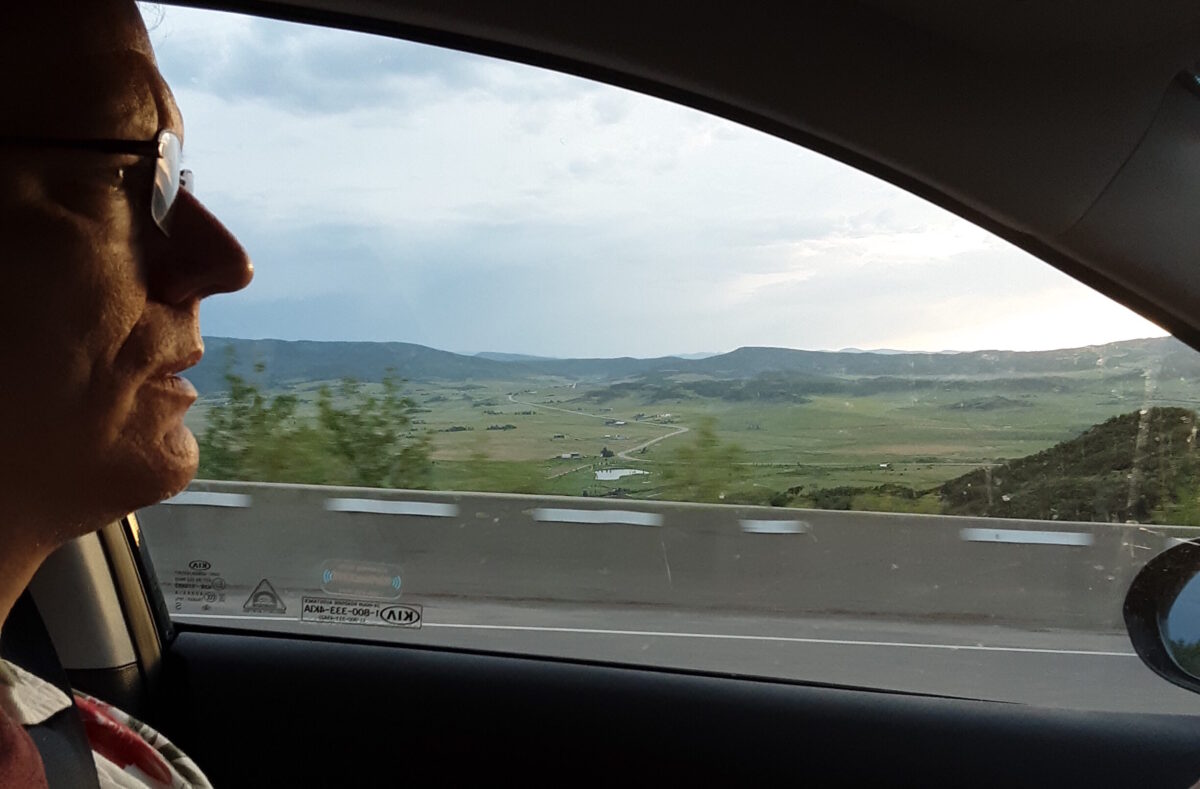 Let me preface this complaint by noting that I have been, over the past three and a half years, an otherwise perfectly satisfied Verizon Mobile customer. Likewise, the Samsung mobile device that I have been using since March of 2018 has performed in excess of my expectations. As for Google's map services, I think I speak for most users that improvements to the service since its early days have made it the default choice if not the gold standard for routine road navigation the world over. Moreover, I do not necessarily blame these companies (in a legally-relevant, prejudicial sense) for the present psychological malady afflicting my wife, nor have I undertaken to accuse them of intentional malfeasance regarding the circumstances leading to her hospitalization.
Over the objections of my attorney, I feel honor-bound to relate the details leading to the events of the early morning of July 31,even at the risk of introducing exculpatory evidence to any tort actions we might decide to pursue. It might be unwise of me to admit this publicly, but I have a nagging suspicion that the particular scenes we witnessed, the utterances we overheard, and the climactic revelation we narrowly escaped would be so implausible to a typical jury that I remain skeptical we might obtain any sort of legal remedy. If it were not for the evidence of my own eyes, I doubt I would believe what I experienced, despite the fresh and vivid memories that prevent me from obtaining more than ten minutes' consecutive sleep lately.
Let me start with the opportunity for the cross-country voyage. First, the current plague shutdowns have curtailed my working hours. Second, my daughter is now of the age when she can form reliable, permanent memories, as well as critically evaluate novel experiences, take handwritten notes (I advise any parent to encourage their kids to develop the habit of maintaining a journal), and get a taste of life as an active participant. Third, E. still lives in the very house in which she was born a little over eight and a half years ago. We have taken her on outings, naturally. Since we live in the greater DC area, she is familiar with the various Smithsonian museums, the National Zoo, the local battlefields, and the other sundry local attractions. Voyages farther from home have been limited to visits to her grandparents in Connecticut, outings to the Blue Ridge Mountains, and one notable flight to New Orleans to see the French Quarter where she got to devour beignets on a sun-dappled Bourbon Street balcony during the off-season. We have never taken her on any sort of extended vacation requiring more than a long weekend's worth of hotel bookings. The timing for an extended family tour of the United States could not have been better.
The motive for the trip came, as such things often do, from a stray remark. On one of our frequent neighborhood walks, E. mentioned how she was impressed by the size of an elm by a drainage culvert. I knew then that I had to set the girl right. The temperate rainforests of the Olympic range boast Sitka Spruce, Douglas Fir, and Western Red Cedar whose size defy reason. In June, we decided that since we had little else going on, and with the prospect of a school year marred by yet more shutdowns, we would both start learning how to play the violin. As it happens, my aunt D. has been a concert violinist and strings teacher for primary school students since the 1970s. Critically, she lives in Ocean Shores, Washington, mere minutes from the Lake Quinault reaches of the Olympic rainforests. The excuses for lingering at home in this sweltering heat were starting to wilt.
I picked a departure date to coincide with my wife's birthday, though I regrettably failed to account for the vagaries of her work assignments. Her hospital resumed elective surgeries earlier this summer, which exposed serious staffing shortcomings. She had a tougher time than expected arranging for someone to cover her shifts a week before her scheduled vacation began. We ultimately arranged things so that she would fly to SeaTac on July 22, allowing for enough time to tour Mt Rainier, Crater Lake, and the Oregon coast before turning east to stop at the Southern Utah national parks: Zion, Bryce Canyon, Capitol Reef, and maybe Arches if we were prudent with our time.
I have no complaints with the performance of my device or any installed software during the first two weeks of the trip. When I first veered off I-70 outside of Lawson, Colorado on our way to Steamboat Springs, and then to the south entrance of Yellowstone, GPS services functioned fully as expected. Leaving the park the next day, our arrival at Craters of the Moon outside of Arco, Idaho proved utterly unmarred by any traces of the macabre, the uncanny, or the disjoint. I freely aver that on July 18th, around 1400 PDT at Paradise, WA just outside the employee dining room entrance of the lodge, I did accidentally drop my device resulting in a cracked screen. However, at no time during the remainder of the day did any feature on the phone make any sort of reference to "Shrubnig Arath," or the Mirror-Man, or More Than A Feeling by seminal 80s pop-rock band Boston.
The most potent evidence I can muster releasing me from liability related to the dropping of my device follows the drive from Ocean Shores, WA to SeaTac International Airport on July 22, 2020. Early that morning, I fancied myself capable of making the trip from the beach to the airport from memory. Aberdeen to Olympia is an easy enough jaunt, and from there the last few dozen miles on I-5 can be conquered by remembering that the road deck north of Tacoma was laid on a dare. It was a trip I have made more times than I can recall, so I felt little urge to consult Google Maps. Knowing a thing or two about traffic along the I-5 corridor, I allowed additional time, and added in a bit extra in the hopes that E. and I might stop by the Museum of Glass in downtown Tacoma, if only just to look at some of the outdoor installations. As it turned out, one scheduled road closure for culvert repair in Hoquiam combined with two emergency road washouts outside of Cosmopolis to stymie my plans. My freshly-damaged Samsung had no difficulty quickly and accurately providing an alternate route that cost me a mere 45 minutes rather than six hours. It wasn't until I asked it for a quicker route to get from Charleston, WV to Fairfax County, VA that some malfunction, deliberate or otherwise, led me to encounter the dreadful blasphemies I witnessed in the dark woods outside Moorefield.
The other noteworthy portion of the journey related to the performance of my provider, the device, and its software occurred between the afternoon of July 27 and early evening, July 29. We had made our way to Klamath Falls following  a  perfunctory tour of Crater Lake. By the time California loomed on the horizon, I was far enough from familiar ground to once again consult the GPS in my phone. It proved reliable enough to guide us from Oregon 39 to California 139, through grim Perez and lonesome Canby. We were led past Sheepshead and onto US 395 in Susanville, where we decided against stopping at Lassen Volcanic National Park due to time constraints. From there, we grit our teeth through Reno onto I-80, and then to US 95 alternate southbound to Walker Lake, where we tossed around the idea of pitching a tent for the night before we noticed warnings about unexploded ordinance along the south shore. We ended up staying somewhere far more ominous: the "World-Famous" Clown Motel in Tonopah, with a prime view of the old town graveyard in use from 1901 to 1911.
The only other possibly remarkable event  during this time occurred about a mile and a half west of Rachel, NV. I pulled over to help someone hunched over the open hood of a rust-chewed GMC Big 10 pickup that looked to be at least as old as me. Mind you, I am little more than an amateur when it comes to engine repair, but I always travel with at least a socket set and a few sundry basic tools, which is sometimes the difference between paying a couple grand for a tow and emergency repairs and getting yourself hobbling again so you can negotiate a more reasonable price at a reputable garage. When I glanced at the engine block, I was delighted to find that it was a straight 6, not all that different from the slant 6 I had rebuilt in my old POS '78 Dodge Aspen in the early 90s. I was able to track down a little pinhole leak on the hose running out of the fuel pump, so I wrapped it with some electrical tape. After a few more minutes of cajoling the ignition, the old Chevy 230 was growling again. Its owner introduced himself as a Havasupai named something like "Tetch," (I confess I had a hard time understanding his thick accent). Tetch insisted on a reward for my help over my protestations, so in lieu of cash, I finally accepted a pair of sachets containing strong-smelling herbs he called, the "Tura and Payo" tea. I nodded my thanks and resolved to dispose of them in the next available rubbish bin. Also, we visited the Little A'Le'Inn motel and the owner gave my daughter a small brass bell from her personal collection.
As it turns out, our accommodations outside Bryce Canyon for the night of July 28 provided us with somewhat brackish water, so I decided to brew some of Tetch's tea to mask the taste. It proved to be a minor improvement. Though my wife and I slept fitfully that night and suffered frightful nightmares, we both agreed that no other ill effects from the lousy tap water could be detected as of dawn, 29 July.
Capitol Reef National Park proved to be the unexpected gem of the entire trip. If you have yet to visit, I encourage you to include it on your next Utah outing. The draped monoclines above the Waterpocket Fold are nothing short of breathtaking, and the collapsed hoodoos will resolve some lingering questions you will carry with you from many of the other nearby geologically interesting areas. I never knew, for example, that oyster fossils could be found in such proximity to petrified wood.
I have a habit formed over many years of car camping wherein I casually scan the roadside, looking for ineffable sign that a good spot to hole up for the night is nigh. The practice served me well, for at the dusk hour of the July 29, providence lent to us a patch of BLM land northeast of Goblin Valley State Park just off Utah Route 24. It was during this respite that I first noticed erratic behavior in my otherwise-reliable device. Odd glyphs would briefly appear when I switched it on, and pictures looked slightly distorted, showing streaks and lensing not present in the originals. Clicks and scratching accompanied any use of the speaker, and the case alternated between uncommonly hot and strangely cold. Perhaps foolishly, I dismissed the malfunctions as minor annoyances possibly brought on by fine clay dust in the case. I now bear the shame of ignoring retrospectively-obvious early warning signs.
The big I-70 jaunt out of the Rockies and onto the limitless expanses of the Great Plains required no use of GPS services, so I left my device in the arm rest and fought off road fatigue by flicking through the curiously charming radio stations peppering the heartland. Since we had resolved to push through in an effort to arrive home on the 31st, we took our break for the night at a rough and tumble Motel 6 in Warrenton, MO. We slept briefly, as the nightmares that began two days prior proved all but unbearable. We therefore checked out at 0545 on July 31 to complete the last 14 hours or so we had to drive home.
The route I had planned using the paper atlas I bought in June took us from I-70 to I-64 out of St Louis. We would switch to I-79 northbound out of Charleston, WV, pick up I-68 near Morgantown, and then rejoin I-70 in Hagerstown, MD. From there, the rest is a trip I have made dozens of time: I-270 to I-66, and finally home. At the outset of the trip, I carefully considered which atlas to get for the trip. I decided on a smaller, spiral-bound edition that my daughter could easily manage. The upshot of this was that by the time we got close to Charleston, WV, the GPS directions were at odds with the paper plan. No one in the car was surprised that the electronic map was more detailed, nor that the electronically-planned route was forecast to save us close to an hour of drive time.
The weather started out dismal. Normally, this would not be an object of consideration. With the exception of the rare ice storms, tornadoes, or hurricanes that occasionally ravage the lower 48, bad weather is nothing any experienced driver in command of a well-maintained vehicle needs to fear. For this portion of the drive, the ceaseless drizzle becomes marginally more relevant. What shows up as moderate rainfall in Kansas, Illinois, and Indiana can appear as heavy fog in the dense hills of coal country. To my chagrin, I have lived my entire adult life either unaware of this meteorological oddity or unwilling to think through what should have been rather obvious in hindsight. By the time we got to Buckhannon, WV along US 48, the settled fog in the valleys began combining with the fading daylight to produce a striking visual effect. Had I been doing anything other than trying to wend my way along an unlit tangle of country roads, I daresay it might have been downright beautiful. I could easily imagine drinking in the cool night on a friend's covered porch, listening to the song of the whippoorwills as we nurse a couple of Big Timbers and ruminate on the Present State of Things.
Not long after we had put Elkins behind us, the glitches began in earnest. The anodyne female-register voice giving navigation instructions had dropped two octaves and had undergone some unorthodox post-processing. If you have ever heard a monologue spoken backwards and then listened to its recording reversed, you should have some idea what I mean. However eerie these cosmetic changes might have been, the navigation instructions proved downright calamitous.
We were first directed to turn down WV 92, and then to US 33. Before we made it to Alpena, the deep, hollow voice told us to turn left onto WV 111 toward a town named Brainbash, which I cannot now find anywhere on any map of West Virginia or even in the state's online archives. The coal processing plants we had passed until then had been handsome, well-lit structures of gleaming steel. The road to Brainbash was littered with broken, rusted hulks clawing out of the dark soil, bent metal hinting at some bloody grief sustained ages earlier. With the fog still encroaching and the bends on the road coming closer together and more severe, I dared not pause to inspect closer.
The town of Brainbash boasts a large welcome sign, its design not unlike those found in towns of a certain age from New England down to the Mid-Atlantic. Faded black paint against a crack-raddled dingy white background announced that the town's founding dated to 1690, which struck me as odd considering that I'd always mentally placed the founding of the state somewhere in the 1730s or 40s. I cannot in good conscience accuse Verizon, Google, or Samsung of doctoring a sign in the hinterlands of West Virginia, but I can accuse them of wrongfully guiding me to such an ominous place.
The first building that greeted us as we crept into town through the enveloping fog appeared to be an abandoned garage. An illegible oval sign dangled from a bare wire in front of a half-open aluminum door wide enough to comfortably accommodate two mid-sized pickup trucks. "You are on the f-f-f-astest-t-t-t available route," the corrupted voice from my phone croaked. It thrice repeated a completely garbled noise in a tongue unfamiliar to my ear: "py-hrg nutht en asch-xhxh nen-chranm vlug." I remember the pronunciation well, since it still rings in my ears when I try in vain to sleep. I have heard of universal writing systems that can accurately capture breath vs. breathless glottal stops, intonation variations and suchlike. While I find such a writing system of great interest, I am afraid that I am insufficiently familiar with its particulars to more closely communicate the correct pronunciation of the message because I cannot help but be impressed by how the words were both guttural and musical at the same time.
After turning right at the only stop sign in town (no GPS instructions were required since the other two options at the four-way stop were driveways), my wife let out a sharp shriek loud enough for me to visibly flinch before she grabbed at the steering wheel and drove us off the road. Luckily, I have sound reflexes, and the brakes on our Kia are in excellent repair. If not, I suspect that I might not be here to write any of this.
The tableau that prompted her cry came into view once I backed onto the road.
Please excuse any sloppiness in my descriptions here. By the time of the events of Brainbash, I had already been driving more than sixteen hours in challenging weather conditions. This was also near the end of a three-week outing involving two fast-paced cross country drives as well as numerous day trips. I am not as young as I once was, and that much time behind the wheel takes a toll. The fatigue combined with the poor lighting and the oddity of the scene to make it tough for me now to recall details with the clarity I might like. I would also like to make it clear that any physical or mental exhaustion I was managing in no way excuses Samsung, Verizon, or Google from their negligence in navigating my car, with my family in it, to witness the grotesque aberrations of Brainbash, WV.
To the best of my recollection, here is a physical description of the roughly two dozen nude cultists staring up at the hole in the sky where the moon should have been. These chanting, mostly-human creatures bore the sickly pale hue of the bellies of scavenger fish from the tops of their bald, pointed heads to the obscene talons on their feet. I could see no trace of body fat above any navel. Instead they carried their plentiful adipose tissue on their hips, buttocks, and vein-splotched thighs. Their shoulders hung as if dislocated, fat-swollen fingers dangling below emaciated upper arms down to their knees. They sported defects in the jaw, allowing them to tilt their heads back to an unnatural degree where double rows of exposed teeth gleamed in the glare of my headlights thanks to mouths agape wide enough to accommodate a full-sized football. I could hear that same dreadful chant, "py-hrg nutht en asch-xhxh nen-chranm vlug," from the contorted people blocking the road.
Repeated honks could not rouse any of them from their stupor. It took me getting out of the car to get one of them to react. The nearest figure stopped chanting as soon as my shoes touched the asphalt. I heard joints crack as he (it?) pivoted toward me and closed piscine, double-jointed jaws with a snap. He spoke with a rumbling sibilance that stirred within me a profound dread.
"The payment is here," he croaked. I noticed that the same horrid lack of pigmentation in the skin extended to the eyes. "Her throne." His fingers twitched in a frightful, repulsive manner, leaping independently as if the tendons and ligaments holding them in place had slackened, leaving only spastic muscle fiber to govern the motion of those bloated white sausage-casings. The noxious chant repeated, this time with additional syllables: "ya-ya apocolothoth fith toggun py-hrg nutht en asch-xhxh nen-chranm vlug golgoroth fith toggun." As the new syllables were added, others in the dreadful coven followed suit, creaking and snapping as they cast moon-white eyes in my direction.
I soon realized that the fog in downtown Brainbash had lifted to reveal an impossibly starry, moonless night. There was no way, even with the momentary blackouts we had been experiencing along WV 111 that my night vision could have so well adjusted to the gloom so that I could see the contours of the Milky Way at this altitude. At that moment, I didn't care, so I did the only sensible thing I could, which was to get back in the car and floor it, plowing through these swollen degenerates if needed.
As I fled town, wife and child howling in unbridled terror, I could swear that I heard pained voices from the creatures as they bounced off the hood like those red rubber playground balls from elementary school. "The payment," some moaned. Others wordlessly groped at the driver's side rear window, where no one was sitting. About half a block from the town's courthouse (I assume it was either a courthouse or a library, considering the ornate clock tower and absence of religious symbols), I swerved around a monstrously large specimen of the milk-flab lunar cultists. It was chanting those horrid syllables in a voice loud enough to rattle the little air freshener I keep tucked into the defogging vent. I cannot endeavor to piece together any uncanny thing that happened next. As far as I can tell, the hour skipped ahead to 0100 and we were travelling peacefully along US-48 near Moorefield.
That relative peace was soon frustrated by a marked change in my wife's demeanor. She soon became visibly agitated, and when I asked her to remark upon the uncanny events of Brainbash, she would only respond with increasingly flustered demands to know where our son was.
I could only answer her nonsense inquiries by pointing out that our only child was dozing peacefully in the back seat. She insisted we pull over, at which point she got out and started ransacking the car, throwing camping supplies and luggage across the road in a futile search for a child that never existed. I eventually had to force her back into the car and leave the sleeping bags and an old propane camp stove behind so that we could get home in time to pick up a friend's dog that we are tending for the week.
Despite my best efforts, I could not calm her concerns. To the contrary, my resolute and plainly obvious assertion that we have only ever had one child simply prompted more disbelief and anger from her. That our daughter has supported me in this simple truth pushed her behavior past the limits of what our family could safely endure, so I regretfully summoned assistance to help me check her in at our local hospital for a psychiatric evaluation. She is still there, and as soon as I post this complaint, my daughter and I will go check on her.
My warning for anyone reading this is simple: if you choose to rely upon Google, Verizon, and/or Samsung products as an aid to road navigation, do yourself a favor and verify the route using traditional methods. Do not put faith in the machines. The machines can fail you.
I will, upon further reflection, admit that it was something of an oversight that I kept my daughter's old car seat installed behind me for the trip. She will be turning nine this fall, and hasn't needed the thing for years now. We probably could have put the seat space to better use.
---
Addendum: the phone appears to be working normally once again. Take cover from the light of the full moon. Do not look. Apocolothoth fhtagn.