Saturday Spins: Bright Eyes
Time for another new release here on Saturday Spins. The Trump-hobbled USPS got this one to me the day before its official release, which was how pre-orders for vinyl usually work1 when there isn't a giant fascist toddler and his minions running the show. Last week I shared with you my new favorite band, The Texas Gentlemen, and this week I will cover a band/artist I have been listening to since I was 14.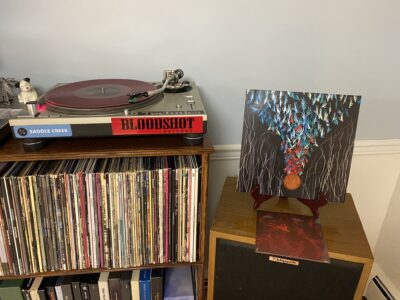 Bright Eyes
Down in the Weeds, Where the World Once Was
2020
Commentary
Like most teenagers, I was angsty and sad and the music I listened to reflected that. However, I was not actually sad, but was most definitely full of angst. Still am to some degree. Bright Eyes was one of those bands that helped explain the steady angst I was feeling. I think Conor Oberst was wrongly pigeonholed into the genre of "Emo" at that time, something of which he was not able to dispel until he started releasing more folksy efforts solo or with the Mystic Valley Band. As previously covered here, Conor also fronted a politically charged punk band.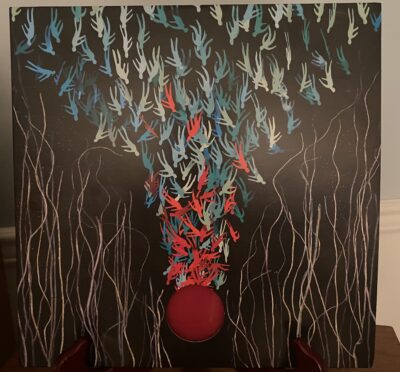 I was lucky enough to see Conor Oberst & the Mystic Valley Band at Mr. Smalls Theater in Millvale, Pa and Bright Eyes on their "final" tour at Stage AE in Pittsburgh, Pa.2 Both were excellent shows that I rank high on my list of concerts attended. After 2011's The People's Key," Oberst decided to put an end to Bright Eyes, but walked back any kind of finality, and here we are 9 years later with a new Bright Eyes release!
The artwork for this release is pretty badass, not only is it a double-LP with one translucent red and one translucent orange LP, but the jacket has artwork representing one color on the front (red) and the other color on the back (orange) complete with a die-cut hole to show off the colors on their respective sides. Side D has no music, but some etched artwork that operates as a Phenakistiscope.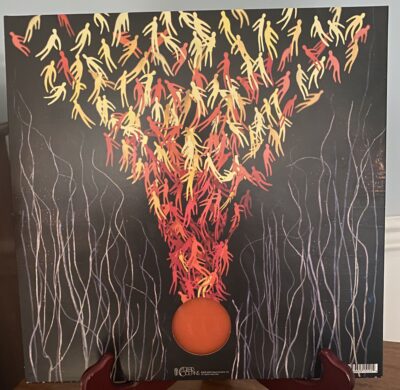 I sprung for the deluxe edition which included a red/orange splatter 45 with one unreleased track on the B-side. All in all a very colorful release, for a moody-titled album.
What I find particularly cool about this record is the number and variety of instruments used. A lot of orchestral instruments were actually on various tracks, not sampled. There's even some bagpipes involved! This created a very smooth indie rock sound. Upon first listen, I texted my good friend and told him it sounded like early Bright Eyes, but with better production and sound engineering.
Track By Track
1. Pageturners Rag
The first track is an instrumental/talking intro that features Conor Oberst's ex wife, Camilla, speaking Spanish. I grew up in a household wherein my mother was bilingual, but I can't speak it fluently, perhaps proficiently–enough to get by really. Anyway, I think what it is her introducing the band performing the instrumental, which sounds like something you'd hear in a saloon, at a bar Conor owns in Omaha called, Pageturners. The bar occupies a former bookstore of the same name.3
2. Dance and Sing
Upon hearing this song, I knew this was going to be a Bright Eyes record, but with significant modern accouterments. The writing has and always will be there, Conor is one of the most prolific and clever songwriters of my generation, but the early sound was extremely minimalist and stripped down. It wasn't until Digital Ash in a Digital Urn that Bright Eyes really came into their own with a more modern sound. Anyway, this is a great song and you can definitely tell that there is some introspection going on.
"Don't read my worried mind
That smoking gun passing through time
I'm yours, you can decide
What fate I'll have on the firing line
Because now all I can do is just dance on through
And sing"
3. Just Once in the World
A poetic and very Dylan-esque song. A lot of rhyming and a lot of aphorisms that play well with the backing of an acoustic guitar and light choral background vocals. Not a huge standout, but a pretty good song. There are 14 on the record, so buckle up, I guess.
4. Mariana Trench
[youtube https://www.youtube.com/watch?v=K4vO8gh6xdM]
This song truly shows off Oberst's writing prowess, with some biblical nods, historical nods, paranoia, and predictions of environmental catastrophes. All of which are related to humanity staring down problems as massive as Mount Everest or the Mariana Trench. I had a teacher once that made the argument that we spend way more money on exploring the vast emptiness of space, when right here on Earth we have vast unexplored parts of the ocean.
5. One and Done
A continuous theme on this record is the environment and climate change. See the previous song as a huge example of that. This one is a bit darker and even goes as far as referencing the so-called "Anthropocene," Carrie, and images of a famine.
6. Pan and Broom
A new genre was created when this song was made, "Electronica Blues." Somewhat placed in the middle of the record, this song feels a lot like an anti-interlude. Not quite meshing with the previous songs and not quiet portending the songs to come. There is, however, a lot to unpack. It continues the somewhat doom and gloom theme that I wont say isn't justified for the times we currently live. It does make a reference to Tulum, a town in Mexico and this is post (amicable) divorce from his wife, so who knows?
"Best medicine's laughter
What a practical joke we have to play
Let's wait for the rapture
Man the phone banks were talking snakes
If it's not all that important then why make a fuss at all?"
7. Stairwell Song
Upon first listen, this one was my favorite track on the whole record. It is, however, a very sad song and I cannot tell if it is about his brother, ex-wife, or both. One of his brothers passed away suddenly in 2016 and his divorce occurred the very next year. A lot of songwriting material there! Anyway, this kind of starts out slow and plodding but builds to a pre-crescendo horn solo which builds to a full on orchestral outro after the line, "You like cinematic endings." A little bit tongue-in-cheek.
8. Persona Non Grata
this song marked the first release in 9 years and was the first hint that there would be a new Bright Eyes record in 2020. This is another one that sounds era specific with regards to a certain Bright Eyes sound. A lot of the lyrics describe a fall scene in New York City, where I believe Oberst lived for a time. A pretty solid song and first single.
9. Tilt-A-Whirl
Some of my favorite songs are entitled "Tilt-A-Whirl." There is the Whiskeytown one, the Slobberbone one, and now this one. fun fact though, you'll never catch me on an actual tilt-a-whirl because I have a longstanding policy against doing things that could kill or seriously injure me, or even at minimum, make me feel sick. This song is most definitely a giant reference to his brother that passed, as evidence by the opening line, "My phantom brother came to see me." Sound wise, it is reminiscent of 1998 Bright Eyes, but with better production and cleaner vocals.
10. Hot Car in the Sun
A few years back, Conor released two LPs, one entitled Ruminations which were mainly vocal and guitar/piano songs, and the other Salutations which were full band arrangements of the same songs. This song sounds like it came directly of Ruminations. For the vast majority of the song it is just him and a piano which slowly progresses to some light percussion and lo-fi lead guitar. Th song ends with this ominous (spoken, not sung) line, "Well, they gouged out my eyes, but I could still see, so it didn't seem that important to sleep anymore."
11. Forced Convalescence
So this one was released amidst the lockdown but was written before anything like "Covid-19" had entered our lexicon. The song basically is a plodding tale of, you guessed it, forced convalescence. It was an interesting to hear when it first came out, but there are better songs on this LP.
12. To Death's Heart (In Three Parts)
Here is a song that actually contains three vignettes using three different so-called romance languages, Italian (Benedicente), Spanish (Agotante), and French (Éphémère). It is a very sad song, and is most definitely about his ex-wife. It is interesting to me how so much great art is made from heartbreak and tragedy. By all accounts, it was an amicable separation, but spending 7+ years with someone who is just no longer there has got to sting.
13. Calais to Dover
Probably the most positive sounding song on this album, which is saying something for a Bright Eyes album. It seems lighthearted and musically it has a bit of a mid-tempo arena rock sound a la Foreigner. Then the solo hits and you really feel like you're at a golden age Foreigner or Boston concert.
[youtube https://www.youtube.com/watch?v=-XaJrjviLqM]
14. Comet Song
The last song is an interesting song about life and death. Though this may seem very cliché, the music on this song is very good, even if the lyrics are a bit of a cliché. This song has the most orchestral instrumentation on the entire album. If you isolate just the guitar it would make a decent coffeehouse solo acoustic song.
Fun Stuff!
Pictured here is the etching that creates the phenakistiscope animation.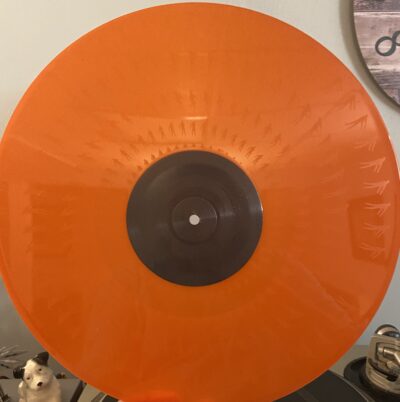 And here it is in action:
[youtube https://www.youtube.com/watch?v=eQTtQ4PT9wk]
A little blurb about it here, at the end he goes into a diatribe about owning physical music just so you all know I'm not the one harping on such things.