Saturday Spins: The Weird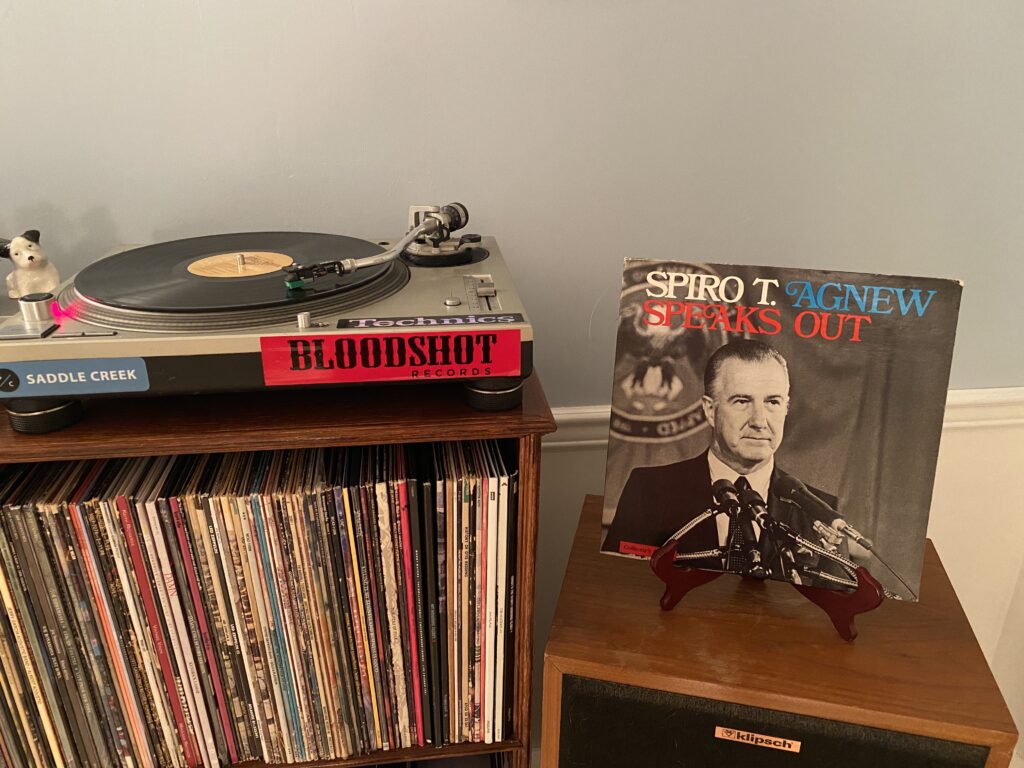 What does a disgraced Vice President, break dancing, and an international farting contest have in common?! Probably something, but what they have in common here is taking up space on my shelves. Last week I discussed Bob Dylan's latest effort, Rough and Rowdy Ways. This week, I went through my collection and pulled out three very weird LPs that I have collected along the way. All told, I actually had a list of ten, but these three are by far the weirdest titles I own.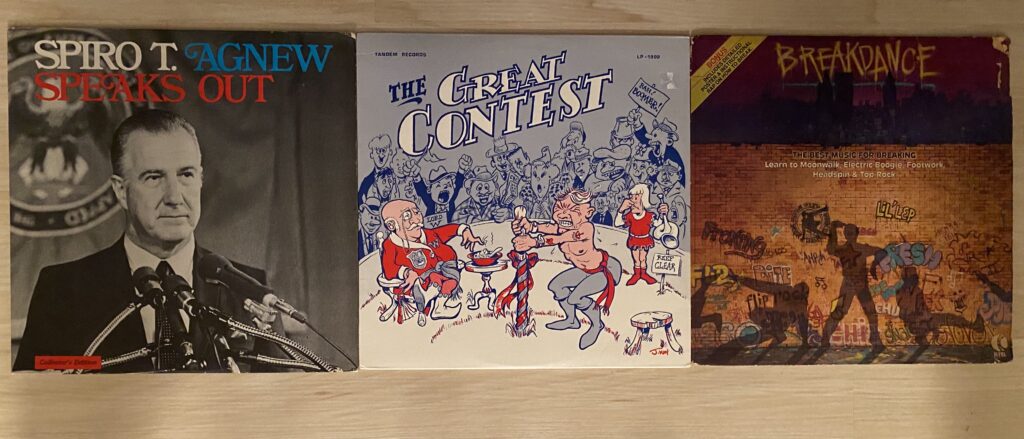 The other titles I picked belong to various other classifications that aren't exclusively "weird," but I feel as though these three, even when taken separately, are a strange thing to want to put on your turntable. Of course, back in the day and in their respective eras, these records would be considered a form of entertainment.
"Gather 'round the hi fi kids, were gonna listen to a corrupt politician excoriate hippies!"

"I wanna listen to the guys farting again, mom!"
Now we have social media, streaming television and movies, you tube, etc. The Entertainment.
I'm going to start with The Great Contest because whatever came out of Vice President Agnew's mouth is actually more offensive than an international farting contest and definitely more mental gymnastics are needed to grasp what he postulates when compared to actual gymnastics required in break dancing.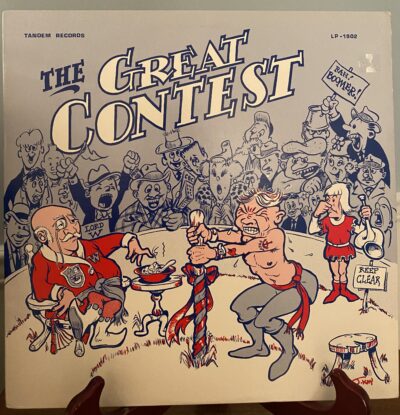 The Great Contest
Unknown Artist
1946 (Unknown Reissue Year)
Background
Dating back to the 18th century, 1754 to be exact, a contest was started in Europe by Andre of Novakia in the small town of Gluiiton, Hungary. Andre was left several hundred acres of a cabbage farm by his father, Flatus. Andre was a crazy person, of course, and maintained a diet of strictly cabbage prepared in several different ways. Andre also treated guests to cabbage and, so the story goes, would expel gas at such a rate so as to poison his guests. Andre, being both insane and clever, would blame the noise coming from his behind on his old and creaky chair that he rested his massive frame on.
Thus the wicked Count succeeded in poisoning many an unsuspecting victim, throwing discreetness from the police to the wind. He was proud of his doings and no-one could stop him, by law.
Eventually, Andre's secret was discovered, and the contest was born. Andre had many challengers, but it wasn't until Artzbaum of Lithuania, was he dethroned as the "crepitation" champion of eastern Europe. Through the years the contest was mainly a European thing, until 1883 when it was held on the Island of Krakatoa–however a champion was not named due to the island exploding from the vaporous cloud of gas.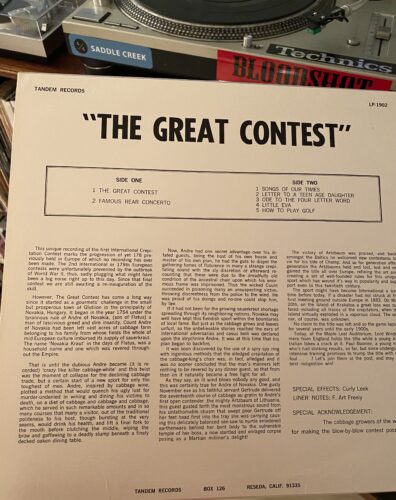 This brings us to the modern day, where the current international champion, Lord Windesmere from England is being challenged by Australian, Paul Boomer. Boomer was transported to the contest on a cabbage-laden freighter ship.
So ends my truncated retelling of how the Great Contest was born. The extended version is told on the back of the record jacket, written by F. Art Freely. Some light internet sleuthing describes how this recording came about–a radio broadcast in Canada. However, someone pressed it to a 78 RPM piece of shellac and then through the years it eventually made its way onto several other mediums.
I won't go into the blow by blow details of the recorded contest itself, but some of you may be familiar with the tale already.
How I Got This Record
My copy came to me through a purchase at a flea market. I think I was rifling through some LPs when my mother in-law spotted it, a devotee to the "40s on 4" station on satellite radio, she is well versed when it comes to such antiquated things. So we all sat down like it was the 40s and listened to the whole contest.
Luckily I got a very clean copy. This particular release was on Tandem Records which was based in Pasadena California. The only Tandem Records I can find now is a Facebook page for a Romanian artist. The original release that mysteriously started circulating after the original broadcast was on Trillblow Records, which was an alias of Columbia Records. These OG pressings are fairly hard to find because they weren't meant to be circulated.
[youtube https://www.youtube.com/watch?v=uPplyQWf-u4]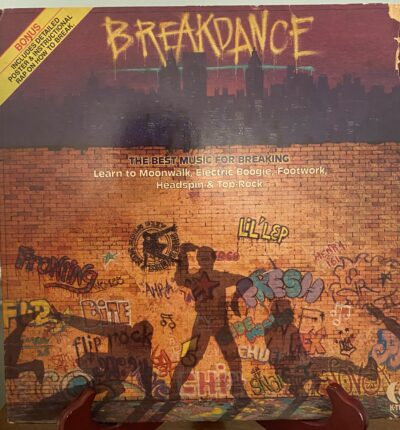 BREAKDANCE
Various Artists
1984
Background
Ok so I know almost nothing about the art(?) of break dancing. What I do know is that this LP was put together by the New York City Breakers, a group formed in the early 80s during the fledgling hip hop and break dancing scene. FEEL THE NOSTALGIA:
[youtube https://www.youtube.com/watch?v=_KH37phI6gE]
I, being born in the late 80s, know nothing of this cultural phenomenon, but I gotta say this LP is very entertaining to listen to. It has a section of "Glossary Terms" on the back of the jacket to help familiarize you with the break dance vernacular.

Included, but not with my copy (more on why later), was a poster that was purported to be THE word on how to Break. Side one of the LP consists of songs that are labeled as "Music for Breaking," while side two is "Break Music & Instructional Rap." I honestly wish I could talk more about the music, but this is a genre I know next to nothing about without doing some deep diving into rap and hip hop history. The earliest rap I enjoy is N.W.A.
Since this album was pre the original Karen, Tipper Gore, there is no "parental advisory" label, but there is this very interesting CYA:
If you have any ankle, knee, back or other physical problems, you should have a medical checkup before attempting the dances described in these materials. Parental supervision is advised for children who attempt these dances.
How I Got This Record
As you can probably imagine, I buy a lot of records, and the majority of these are sent through the mail. In order to keep the record in good shape, some sellers, with gargantuan collections, take what I like to call "filler records" to use as extra padding for what was actually purchased and mailed. Thus, of the filler records I have received as a result of these mailings, four have been of such interest to me that I kept them. I would describe the jackets of these filler records anywhere from "poor" to "fair", but I am more stringent when in comes to the wax. The wax has to be 1. cleanable and 2. free of noticeable scratches and divots.
BREAKDANCE came without the poster insert, but the record was in clean and I would say "very good" condition. So, chalking up to being an interesting oddity, I kept it. I had a chance a couple of months ago to purchase the same LP in an auction group on Facebook, that included the poster insert, but I passed. Why pay for something I got for free to begin with?
Spiro Agnew Speaks Out
Spiro Agnew
1969
Background
Students of history often focus on the Nixon Administration through the lens of only Nixon's corruptness, but folks, his Vice President was just as bad. One of the funniest things from that era is Agnew not being implicated in the Watergate Scandal at all, but nevertheless had his own scandal that was a holdover from his time as a local public official in Maryland. Without Agnew's scandal and subsequent resignation, we would have had President Agnew, not President Ford. Like trading Beavis for Butthead, really.
So this album is a collection of his more famous speeches and quips. I think I have a JFK one in storage somewhere, but that is not as weird as this one, simply because Agnew was such an asshole and very bad at golf and tennis. My history teacher in high school, who coincidentally got me into collecting records, had a trashcan that depicted Agnew playing golf and saying "But I did say…fore!" on one side (fore written in tiny script) and playing tennis with a hard hat that said "God Bless America" while he says "Tennis anyone?" on the other. Supermetaphoricalexpaladocius. I often long for the mundane scandals of old, unlike the real life-altering ones of today.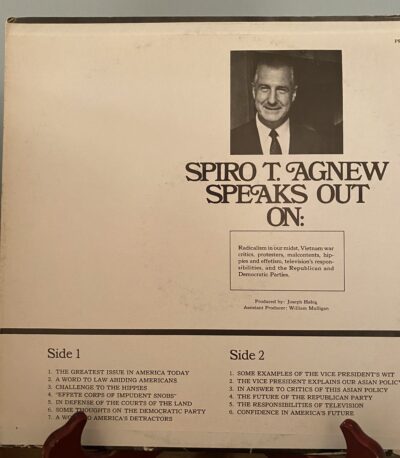 This record includes such hits as his famous "Challenge to the Hippies" and his lambasting of college students/faculty, "Effete Corps of Impudent Snobs." Things change, but Republicans attacking education does not. Agnew was famously not that clever, almost kind of aloof, so the inclusion of "Some Examples of the Vice President's Wit" is a real head scratcher.
Agnew's most famous lines were written by William Safire who shaped the Nixon Administrations message of "the media is wrong, nothing criminal to see here." Things change but Republicans attacking the media does not.
Of all the Agnew quotes though, Safire's biggest (and most alliterative) doozy is:
"In the United States today, we have more than our share of nattering nabobs of negativism. They have formed their own 4-H club — the hopeless, hysterical hypochondriacs of history."
Whatever drugs these guys were on, man.
How I Got This Record
I don't remember! Seriously. I think I was rifling through the used records at Half Price Books and saw it, it's excellent condition, and of course, the absolute weirdness of it, and had to have it.