Saturday Spins: Bob Dylan's Rough and Rowdy Ways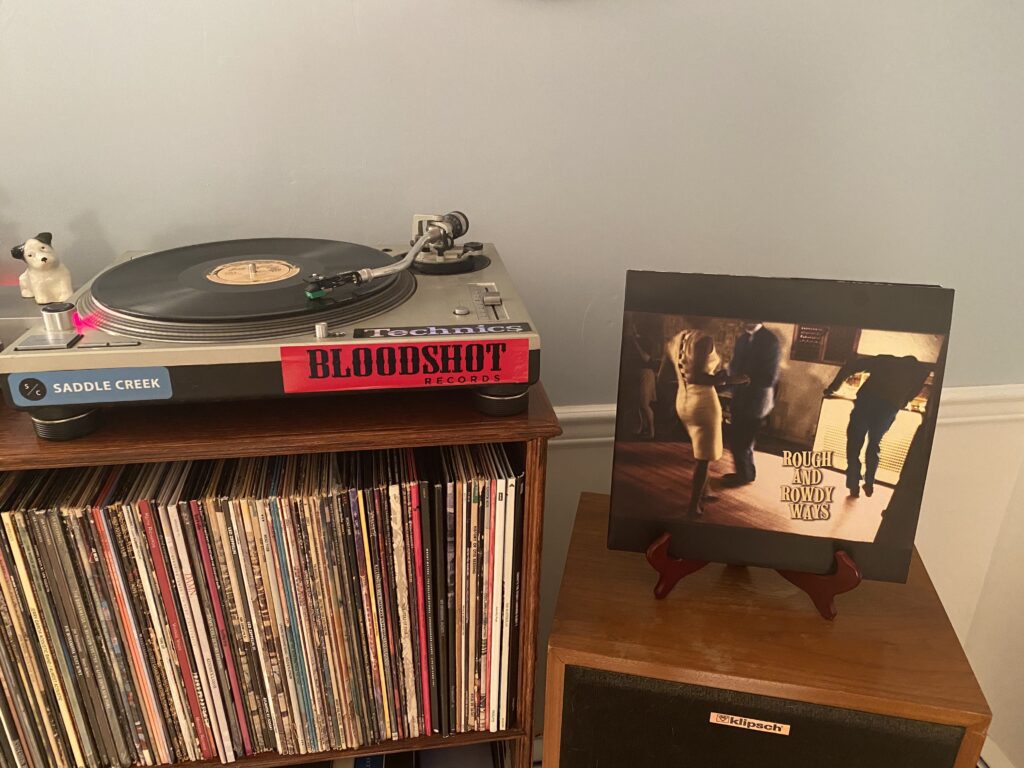 Last week I took exit thrash metal and discussed the epic sonic middle finger that is Pantera's Cowboys from Hell. This week, after a long Trump-encouraged mail delay, I finally received the newest LP from the greatest songwriters to ever walk among us mere mortals.1 The next few Saturday Spins are predetermined, I know that goes against the spirit of randomization, but I have gotten a few very good LPs in and the 'ol noggin has come up with a few ideas that I cannot wait to share here.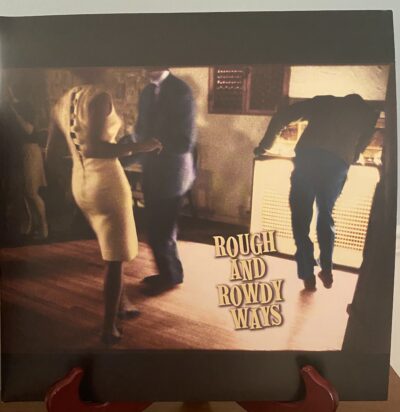 Bob Dylan
Rough and Rowdy Ways
2020
Commentary
The last time Dylan made a record this good, it was released on September 11, 2001. I covered that album in my very first Saturday Spin for this website. That's not to say he hasn't made anything good since, Modern Times and Tempest are both very good releases that I count among my favorites in this particular Bob Dylan Career Arc.2
Dylan has had many so-called "returns to form" that I feel like lazy music journalists have a template every time he waits a few years to release something. In this instance, he hadn't released a new LP of original songs since 2012's Tempest. During the years between, he released a trio of albums featuring covers and re-imaginations of American standards, I daresay that trio of albums were an Arc3 in a long career or reinventions.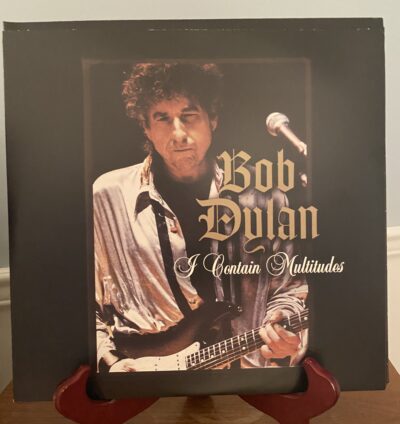 A couple of years ago I received this book as a gift, thinking that releasing an album named Tempest was the end of new releases of original songs.4 Boy was I wrong. I suppose there will be a new edition coming. Onto the record!
While we were all locked down in March, Bob decided to drop a 16-minute opus on us with 50+ cultural references, both historical and musical, that even I, a dedicated Dylanologist, had to research. By NPR's count, he references 74 different songs. Along with discussing the Kennedy Assassination throughout.
Following that surprising release, Dylan dropped "I Contain Multitudes" a month later, and then announced the new album shortly thereafter. With this release he became the first artist to chart in the Top 40 in seven consecutive decades.
In the most Bob Dylan of instances, the photo that graces the front cover was selected by the man himself. However, the photographer, and 86-year old photojournalist named Ian Berry snapped the photo more than 50 years ago in a now-closed underground club in East London.5 I read an article in the Rolling Stone about how surprised Berry was to get a request for use of his photo for a Bob Dylan record since he was not very familiar with Bob or Bob's music.
The inner sleeves feature artwork regarding the first two singles, "I Contain Multitudes" and "False Prophet." The artwork for "False Prophet" is both extremely cool and, at this point in time, extremely prescient.  The back of the jacket has the portrait of President John F. Kennedy. Finally, this is a gatefold jacket and the interior photograph is a colorized version of the famous photo of Jimmie Rodgers and the Carter Family on the street in Louisville in 1931.
Track by Track
1. I Contain Multitudes
The first song on the album is haunting and poetic, to me a reads like an elegy for Dylan's entire career.6 Lyrically it is some of his best work and hearkens back to the epic "Subterranean Homesick Blues" wherein Dylan makes several cultural references–albeit at a much faster pace.
Gotta tell tale heart like Mr. Poe
Got skeletons in the walls of people you know
I'll drink to the truth of things that we said
I'll drink to the man that shares your bed
I paint landscapes – I paint nudes . . . I contain multitudes
There are those among us that will hem and haw w/r/t Dylan's vocals, but I must say with these smoother arrangements, his rough growl and hack has improved. I am of the opinion that he flubbed the first LP in his American Standards Arc due to how rough the vocals were. What can you expect from a 79-year old who has been performing for 60+ years?
2. False Prophet
There's some real Donald Rumsfeld energy in these lyrics. What is a very whimsical-sounding song, is actually pretty dark, as evidenced by the artwork on the inner sleeve.
I'm the enemy of treason – the enemy of strife
I'm the enemy of the unlived meaningless life
I ain't no false prophet – I just know what I know
I go where only the lonely can go
[youtube https://www.youtube.com/watch?v=aIF0gkqvaQ0]
3. My Own Version of You
Want to know why Dylan won the Nobel Prize for Literature? Read the lyrics to this song and/or give it a listen.  Similar to "I Contain Multitudes," Dylan seems to be introspective and is showing off somewhat with the pop culture references and the little strands of stories he creates from them.
I'll take Scarface Pacino and the Godfather Brando
Mix 'em up in a tank and get a robot commando
If I do it upright and put the head on straight
I'll be saved by the creature that I create
A lot of these passages from these songs really do show that odd and playful humor that Dylan has always been known for. He is always at his best when he isn't trying to be someone else.7
4. I've Made Up My Mind to Give Myself to You
This song, to me, is somewhat of a reworking of "God Bless America" with a little Dylan spin. I do not think he intended it to be that, but upon listening to the lyrics that is what it reminds me of.
5. Black Rider
This one is pretty self-explanatory. Although sound-wise this is my least favorite. Dylan sounds too muddled–more than usual. Lyrically though, extremely prescient. It really fits into the whole introspective theme. It is almost a deathbed confession.
Black Rider Black Rider tell me when – tell me how
If there ever was a time then let it be now
Let me go through – open the door
My soul is distressed my mind is at war
Don't hug me – don't flatter me – don't turn on the charm
I'll take out a sword and have to hack off your arm
6. Goodbye Jimmy Reed
This one is by far my favorite on this record. An ode to blues musician Jimmy Reed who wrote a few songs that Elvis made famous and was also a very popular electric blues player in the delta. I think Dylan may see some parallels between the two:
You won't amount to much the people all said
'Cause I didn't play guitar behind my head
Never pandered never acted proud
Never took off my shoes and threw them into the crowd
Goodbye Jimmy Reed – goodbye and goodnight
I'll put a jewel in your crown – I'll put out the light
[youtube https://www.youtube.com/watch?v=W-DG3g-ggdg]
7. Mother of Muses
What starts out as a seemingly normal poetic song about uses quickly turns into a song about various famous battles and generals throughout history. These men and their battles, Dylan argues, paved the way for Elvis to sing his songs and Martin Luther King, Jr. to lead the charge for Civil Rights. Again, a deep read of the lyrics and one can see Dylan looking backwards more than forwards.
8. Crossing the Rubicon
Would make a great country song, in my humble opinion.
9. Key West (Philosopher Pirate)
The title may suggest this is a Jimmy Buffet song that was mistakenly included on a Bob Dylan album, but I am here to tell you that it is most definitely not. What follows is a vivid description of Key West and travelling thereto, however there are some mentions of places like Budapest and Luxembourg. Lyrically and musically this one is fairly good as well, classic Bob.
10. Murder Most Foul
16 minutes and 31 seconds is a long time. I could dedicate an entire post to this song. I have already discussed the highlights above, my advice to you, dear reader, is to check out the lyrics while giving it a listen. You might just find what you've been looking for.
[youtube https://www.youtube.com/watch?v=3NbQkyvbw18]